The Bean Trees by Barbara Kingsolver demonstrates that politics are personal in her novel of friend­ship and survival set in the American South­west. The novel focuses on Taylor Greer's search for a new life as she moves from her dull Kentucky home to exotic Arizona and the lessons that she learns along the way. Taylor's adoption of an abused Cherokee toddler, her friendship with a pair of Guatemalan refugees, and her support system of a small community of women, all contribute to the novel's central conviction that people cannot sur­vive without empathy and generosity. At the center of the novel, friendship is por­trayed as having the power to transform even the loneliest and most broken of lives. When they first appear, most of the main characters-Taylor, Tur­tle, Lou Ann, Estevan and Esperanza-are broke, hurt, lonely, frightened, or just unlucky. However, as their friendships and fierce loyalty to one an­other grow, these forces begin to sustain the char­acters' lives.

STOTAN!

by Chris Crutcher- The final swimming season at Frost High School had been meticulously planned. The four boys were almost guaranteed to win the gold medal in the 400 freestyle relay at the States. But not everything always turns out exactly right and sometimes it can't be stopped. In Stotan!, by Chris Crutcher, four high school seniors learn about friendship, perseverance, love, life and even death.


Stotan! is a humorous, sometimes heartbreaking story about making sense of chaos, about falling in love when it's not in the cards, about friendship and commitment, about life and death.

The Giver by Lois Lowry- "It was almost December, and Jonas was beginning to be frightened." Thus opens this haunting tale in which a boy inhabits a seemingly ideal world.
The Giver is a very intriguing story about Jonas, a teenage boy living in a seemingly perfect society--a society free of crime, poverty, injustice, inequality and disease--a place where everyone is happy and families are perfect. All is going well in this utopia until Jonas is selected to receive the most respected job of all. He is assigned to receive special training from the Giver, who alone holds the memories of the joys and pains of real life. This is a story of a boy who experiences something incredible and undertakes the impossible. This is a novel you will thoroughly enjoy and never, ever forget.
The Wave by Todd Strasser- will intrigue readers from the beginning. It is a story based upon actual events that took place as the result of a History class experiment in a California high school in 1969. Ben Ross, a high school history teacher, begins his usual unit on World War II with a film strip depicting the horrors that occurred in Nazi concentration camps. His students have mixed reactions to the film. Among them, Laurie, a popular student, raises questions that the teacher cannot answer and states that this type of event could never happen again. The teacher concocts an experiment to illustrate to his students just how this type of blind following can easily happen, even in their own school. It begins simply enough as a game in his history class but soon the students want to spread their new found discipline to other areas of the school including the school's football team. As time passes, the other teachers, administration, and a handful of students become more concerned with the effects of the Wave, the term given to the experiment.
Peeling the Onion, by Wendy Orr- The car accident changed everything. Before, Anna knew who she was and what she looked like. But now she's a stranger to her family, her friends, and herself. She is no longer the pretty, popular girl who loves karate. Her body now betrays her, and she knows it will never be the same. All the layers that made up the old Anna -- her looks, her friends, her sport -- have been peeled away, leaving her to face the question: Who, now, is Anna Duncan?
Z for Zachariah by Robert C. O'Brien is a gripping, thought-provoking story about life after a nuclear holocaust. This Robert O'Brien novel takes the form of the diary of a girl who survives a nuclear holocaust. "Seemingly the only person left alive after a nuclear war, a sixteen-year-old girl is relieved to see a man arrive into her valley until she realizes that he is a tyrant and she must somehow escape." There is no one left alive....I know, because after the war ended, and all the telephones went dead, my family went.....
Parrot in the Oven by Victor Martinez discusses many topics such as race, culture, family values, and discrimination For Manuel Hernandez, the year leading up to his test of courage, his initiation into a gang, is a time filled with the pain and tension, awkwardness and excitement of growing up in a mixed-up, crazy world. Manny wants to find out what it means to be a vato firme, a guy to respect, in this powerful novel of a young Mexican-American boy's coming-of-age experiences.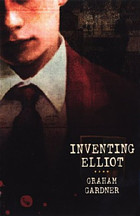 Inventing Elliot- Fourteen -year -old Elliot was picked on and beaten up by bullies at his old school. He wants to make sure that he doesn't get noticed in the wrong way ever again. As a result, he wears the right clothes, changes his hairstyle and acts very cool. Much to his surprise, his plan succeeds.

Elliot is noticed by the Guardians, a secret society of students who run the school by terrorizing and bullying students. Their organization is loosely based on George Orwell's book 1984. The Guardians would like Elliot to join them. Not wanting to get hurt again, Elliot goes along with them but soon finds out that he will have to pay a terrible price for his new position of power.